How To Safely Decorate Your Roof For Christmas
---
For Christmas, or any holiday, decorating your roof is a must! Many people even decorate for Thanksgiving, Easter and other holidays. But how can you know you're doing so safely, so you don't risk hurting yourself or damaging your roof?Here are some key tips to make sure your holiday lighting and decorations go up on the roof without a hitch.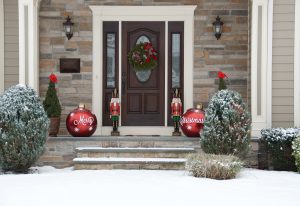 1. Use Secure Hanging Points
One of the easiest way to damage your roof is to attach decor and lights directly to the roof. Roofs are not normally prepared to handle extra weight, so creating secure anchor points by driving strong nails or staples directly into wood, and not into flashing, shingles or other parts of the roof.
2. Be Careful With Ladders
If you're not comfortable climbing a ladder, and don't have a spotter, it may not be safe for you to hang your decor by yourself. Proper use of a ladder, and having a ladder of the right height are essential. Overextending yourself or standing on non-standing areas of a ladder can severely increase the risk of a fall or roof damage.
3. Walk Softly
If you do need to get on top of your roof, make sure you feel safe doing so and have a spotter. Don't rush, and don't take heavy steps – some rooftops are not boot friendly and could be damaged just by walking on them. If you're not sure if your roof can handle your weight, talk to your roofer.
4. Gently Remove Decor
When the season is over (or summer comes), you need to safely remove all of those decorations. Don't just pull the lights by the end and hope they all rip off though – you might damage your roof severely. Take your time, and be as careful as you were when putting them up.
5. Call The Experts
If you think you may have damaged your roof while taking up or taking down decorations, call the roofing experts at Royal Roofing!